Goldman 'Dividend All-Star' Stocks
Will there be a "value rotation" in the stock market?
Growth and momentum have outperformed while value continues to struggle.
YTD, and the year has really barely started, growth has already outperformed value by 6%.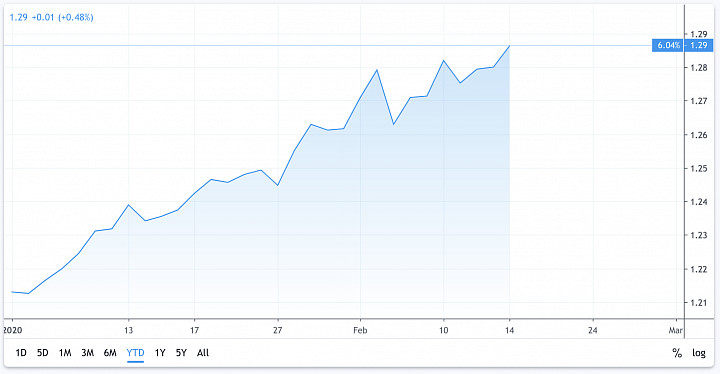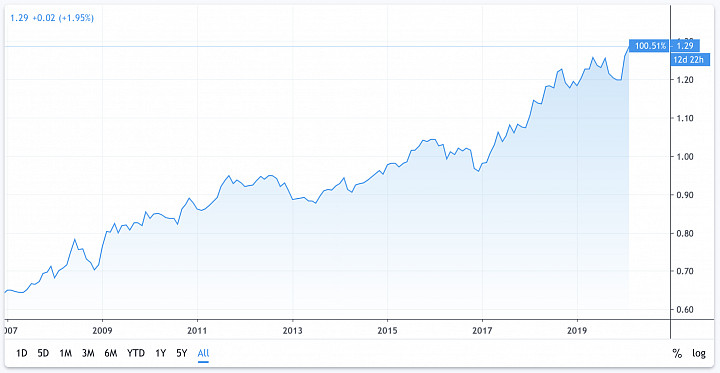 While picking stocks is generally discouraged as very few can outperform indexes over the long-term (risk-adjusted), over-weighting value relative to growth and momentum has a chance of improving your return relative to your risk.

Value stocks have the benefit of producing cash flow.

Growth stocks come with the promise of maybe producing cash flow down the line to justify their valuations--think $UBER $LYFT $TSLA $BYND.
Some stocks are a mix, combining growth and cash flow at the same time, like $GOOG $FB $MSFT $AAPL.
Goldman's Dividend Basket
Goldman analysts offered a "sector-neutral" list of stocks that feature "premium yield while positioning for a Value rotation."

That means a shifting of investors' preference to slower-growing, but quality cash-yielding, companies whose P/E ratios are relatively low.

According to the analysts, the basket features "a higher dividend yield (3.6% vs. 2.1%), 2x the dividend growth through 2021 (10% vs. 5%), and a much lower P/E multiple (12x vs. 19x)," when compared with the S&P 500.
The basket includes 50 stocks. Here are some smaller lists derived from the basket.
Highest yields
First, here are the 12 stocks in the basket with dividend yields of at least 4%: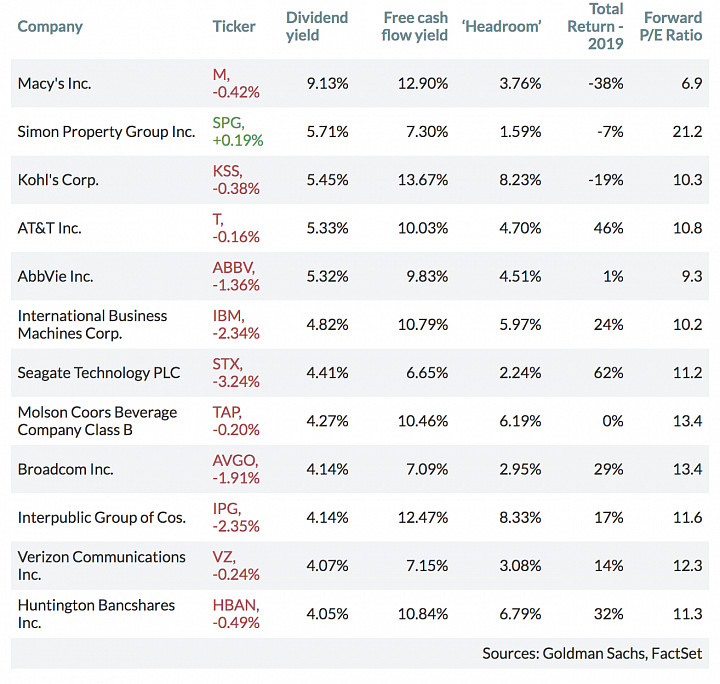 The table includes free cash flow yields, calculated by taking the past 12 reported months FCF per share and dividing it by the most recent closing share price.

A company's free cash flow is its remaining cash flow after planned capex. It is money that management can use for any corporate purpose, including raising the dividend.
Subtracting the dividend yield from the free cash flow yield gives an estimate of how much "headroom" the company has to raise its dividend.

If a company's FCF yield is lower than its dividend yield for an extended period, it could indicate a future cut in the dividend. These usually result in sharp reductions in the share price.
Most 'headroom'
Here are the 15 companies in Goldman's basket with the most free cash flow "headroom":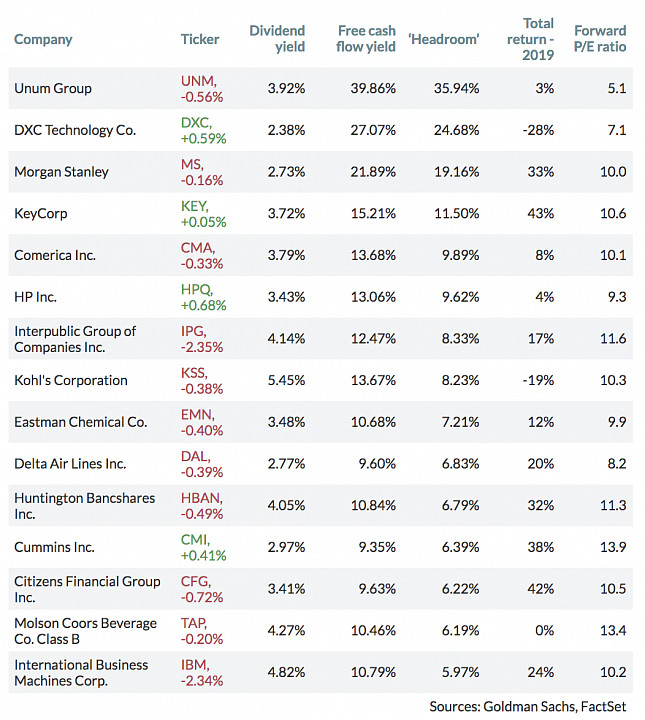 The list
- $M
- $SPG
- $KSS
- $T
- $ABBV
- $IBM
- $STX
- $TAP
- $AVGO
- $IPG
- $VZ
- $HBAN
- $UNM
- $DXC
- $MS
- $KEY
- $CMA
- $HPQ
- $EMN
- $DAL
- $CMI
- $CFG
- $PSX

- $VLO
- $GILD
- $VIAC
- $REG
- $CSCO
- $ETN
- $BMY
- $ADM
- $LLY
- $WYNN